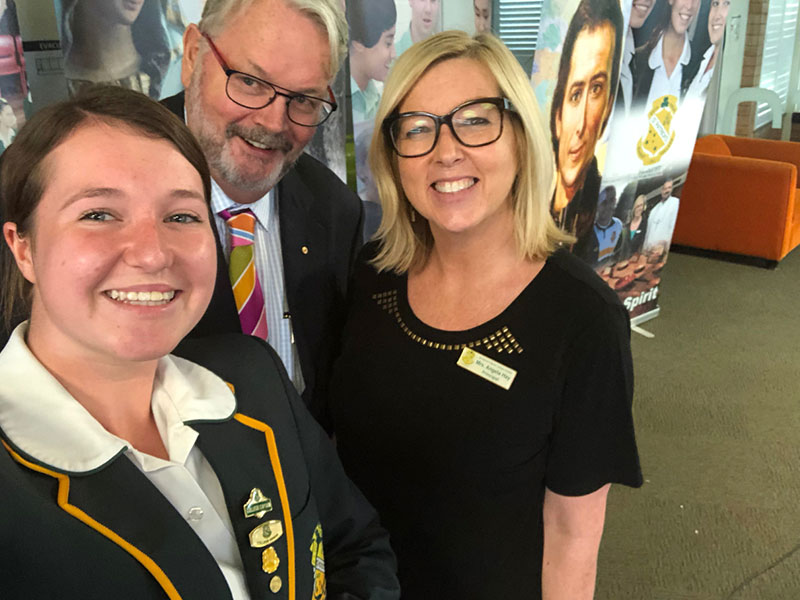 On Monday 5 November, Year 10 and 11 students from five secondary schools in the Diocese of Parramatta had the opportunity to participate in the first ever 'Chatterbox Live', an online Q&A session with Greg Whitby, Executive Director of Catholic Education Diocese of Parramatta.
In an effort to connect with students on a deeper level within their own environment, the live discussion centered around questions relating to inclusion and acceptance as well as schooling in the 21st century. The event provided an opportunity to showcase student voice and agency.
The event involved students from Gilroy Catholic College, Castle Hill, Delany College, Granville, St Agnes Catholic High School, Rooty Hill, St Clare's Catholic High School, Hassall Grove and St Patrick's Marist College, Dundas.
St Patrick's hosted the discussion where a student audience had the chance to watch the event live.
"I was so excited to host this inaugural event. Student voice is so integral to our work in schools," said Principal Angela Hay.
"It was a great opportunity for students to submit some very topical, challenging and complex questions. They felt that their questions were answered, including the challenging ones," she said.
"The key message that came through from this event is that our students think and care deeply about many key issues, particularly about the importance of our Catholic schools being places of inclusion and acceptance."
Emma Gallagher from St Patrick's Marist College who hosted the discussion described the event as a "refreshing and enlightening experience."
"As a student, it is encouraging to know that student voice and input is being prioritised. I am very excited about what the future holds," she said.
The Chatterbox Live initiative will continue in 2019 as a way of giving students across the diocese a greater voice. The second live event will take place in Term 1 2019.
"We're genuinely committed to making sure you get the optimal Catholic schooling experience… we need to listen more, and that's what I'd like to do," said Greg Whitby, Executive Director of Catholic Education Diocese of Parramatta.
You can view the entire episode by clicking here.