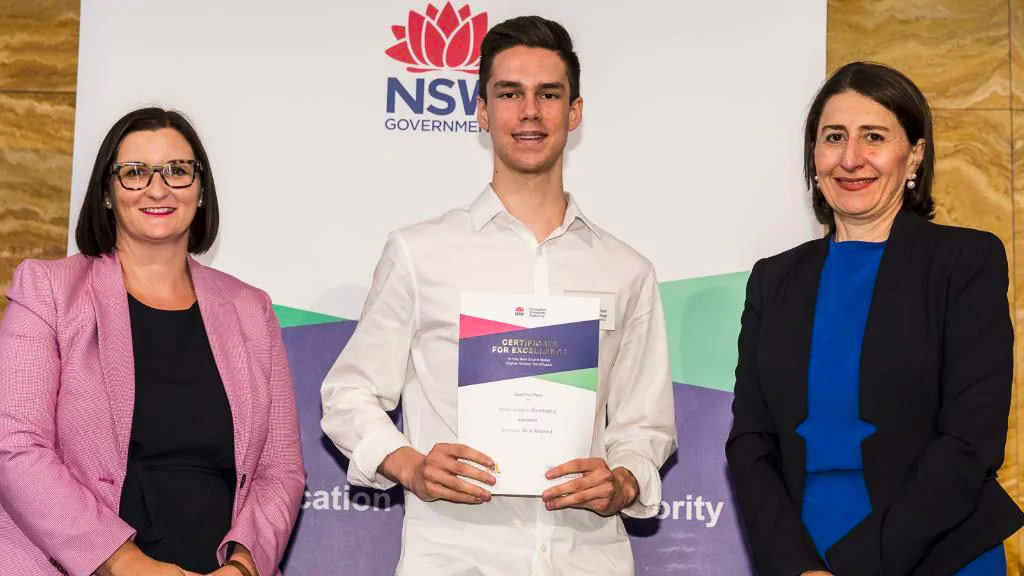 Brendan Mitchell of St Patrick's Marist College, Dundas, came first in the state in Mathematics Standard 2. Pictured with Education Minister Sarah Mitchell and NSW Premier Gladys Berejiklian. Picture: Anna Warr
St Patrick's Marist College Dundas student Brendan Mitchell has topped the state in the HSC in maths.
He is one of just 126 students in NSW to receive a First in Course award this year.
A keen soccer player, Brendan had to tread carefully on stage to receive his award after recently undergoing knee surgery.
He is looking forward to studying corporate law and international studies at university next year.
"I started out doing advanced maths and changed it to mathematics standard 2 on advice from my teachers. Throughout my studies I was not sure I had made the right decision. Now I definitely know I made the right call," Brendan said.
College principal Angela Hay said she is thrilled by the news of Brendan's achievement.
"Brendan has worked very hard, taken teachers' advice and every opportunity he's been offered for extra support," Ms Hay said.
"Knowing each student well helps us to make sure they're prepared for the HSC: I'm really excited for Brendan."
Year 11 student Natalia Grodek also placed first in the state in Polish Continuers.